Fit2d2maud
Fit2d2maud is a small java utility written by S. Merkel. It is used to bin 2D diffraction data in multiple slices with Fit2d, save them in chiplot format, and eventually convert them for use in Maud.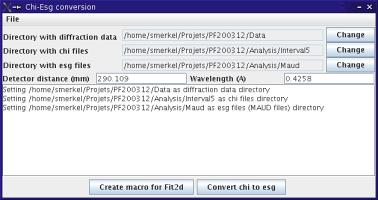 Note to new users
Fit2d2maud was developped over 10 years ago. Personnaly, I do not use it anymore.
These days
If I need to load data into MAUD, I perform this task directly within MAUD. The procedure is described in the texture analysis tutorials on Rudy Wenk's website
If I want fit2d to save series of chi files after binning data at multiple azimuth, there is now a function within fit2d to do so. You should cake your data with the number of required azimuthal bins (e.g. 72 bins if you want 5° steps over 360°) and then select Output, Multi-Chiplot.
Also note that, as of June 2018, some recent versions of fit2d have bugs in the definition of the end azimuth when you try to run the fit2d2maud scripts (thanks to Kirsten Schulze for pointing this out).
Old page content
If you are new to this program, have a look a the user manual, it should be helpful!
To download, click here: fit2d2maud.jar.
Recent changes
Version 1.4 (July 18, 2008)

remember previously enterred values when starting dialog to create fit2d macro

Version 1.3 (July 7, 2008)

Some chi files are missing lines at the end (one as far as I can see). We use the data from the previous line instead of creashing...
remember previously enterred values when starting dialog to convert chi files to ESG

Version 1.2 (March 20, 2008)

force integration in 2theta in Fit2D. It is assumed later on.
better default directory. Use the current directory or one that has already been selected instead of starting from a blank value.

Version 1.1 (March 3, 2008)

set chi angle to 0 by default
automatically rename z-axis in fit2D